Intelligent control of advertisement sales with the AdVision OLAP Cube
AdVision digital provides all relevant data for media and competition monitoring. We capture the national and international advertising market and constantly collect data that is relevant for daily work in marketing and sales. Collecting the data via the AdVision OLAP Cube enables highly customisable detailed analyses and complex media controlling tasks.
All data in one cube
The AdVision OLAP Cube contains all spending data as well as editorial credits with all detailed steps for analysis. It thus forms the basis for detailed expert analyses. Furthermore, it also has an interface for linking up to business intelligence tools such as Microsoft PowerBI.
Detailed expert analyses in Excel
One way of linking up the AdVision OLAP Cube is exporting the data to a PowerPivot in Microsoft Excel. This unites two advantages: a known system environment with little training efforts and complex analysis options for experts.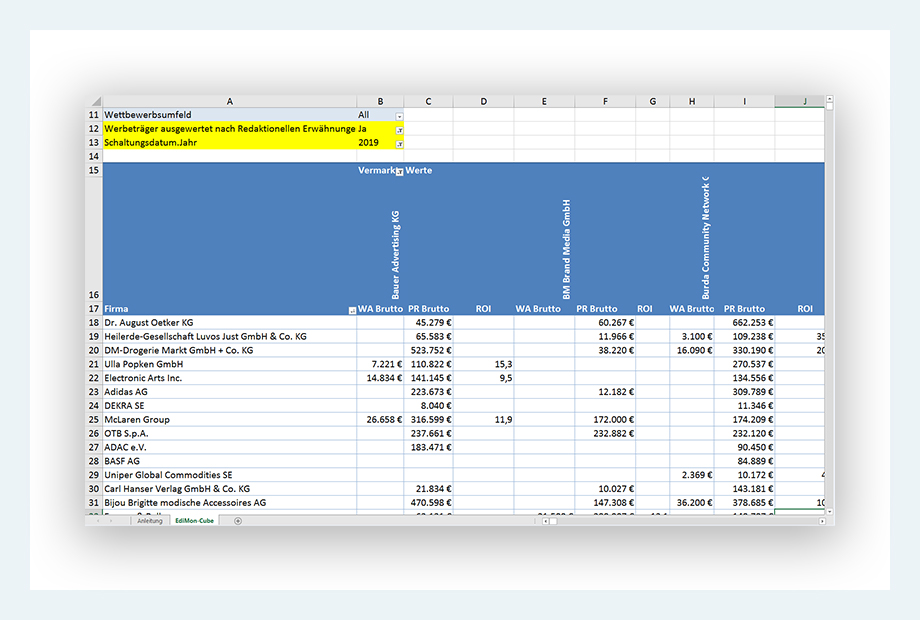 Individual analyses
The AdVision OLAP Cube covers all spending and meta data that AdVision digital collects for advertising market statistics. For our customers, this means: Individual non-customer, new and potential customer analyses whenever you need them. By way of dynamic refreshing, we ensure that you are working with the latest data status when accessing saved queries.